When the American Dream Fails to Satisfy
"I'm just asking you to hear yourself. Listen to what you're really saying and to what you think you're saying. Control, control, control. When are you going to realize that nothing can be controlled? We live in chaos; it's the central issue in everyone's life. Mack, look around you. Everyone in this parking lot is struggling for control. And you know what it is they're trying to control, each and everyone of them? Fear -- they're trying to control their fear." --Steve Martin in, Grand Canyon

"Sweet Dreams Are Made of This"

"One of the great attractions of patriotism -- it fulfills our worst wishes. In the person of our nation we are able, vicariously, to bully and cheat. Bully and cheat, what's more, with a feeling that we are profoundly virtuous." --Aldous Huxley (1894-1963)

Since ancient times, mankind has shunned chaos and sought order. In Egypt, the primary job of the Pharaoh was to create Maat, order. Then the Nile would flood and with this flow there would be abundance on that thin edge of chaos and order that was Egypt. Thus was born the image of prosperity -- of infinite cornucopia. In the US it is much the same, but in this era it is oil and power that must flow to sustain abundance. Oil greases the wheels of corporate rule and "trickles down" to the common folk. Or so they say...

We might think of this year, 2003, more as "227 A.D." -- the two-hundred twenty-seventh year of the evolving American Dream. The American Dream defines the American soul, soul meaning the force that gives us direction. You become American by having fantasies and dreams that you believe you can eventually attain. When you become American you become an individual. Americans have risen, for good or ill, to the top of the world pecking order, and have been emulated abroad where we have conquered militarily, socially, economically.

Americans have created and spread an immense civilization that is garnering more and more converts worldwide. Americans are like the Romans and the Chinese, forever struggling to make others more like themselves. The American middle class, with its consumer affluence, its beckoning to every person to become an individual ("to be oneself"), and its great public arena of particiption in street, forum, cultural, political, and state life, is the single most poweerful cultural force in the world. We Americans have become accustomed to, addicted to, the American Dream. First California exported it to the rest of the country, and now it has spread over the world. But the vision can only be sustained if the state keeps conjuring it up, supporting it, making it possible, and above all, convincing people it is good. (Schurmann, 1995).

The "American Dream" of order is a shifting, but central idea in our collective and personal histories. America was built on dreams, that is on the heritage of hope and universalism. What began as a dream of democratic humanism has degraded beyond one of simple home ownership into one of materialistic consumerism -- commercialism. The underlying mandate of rugged individualism (willpower, perseverance, self-reliance, self-determinism), the work ethic, and personal responsibility is counterbalanced by the strong belief that hard work will be rewarded with upward mobility -- abundance.

That upward mobility is the promise of bigger rewards and an upgrade in lifestyle, class, social strata, prestige, health and well-being, personal fulfillment, and opportunities. Its a case of "dream as if you'll live forever and live as if you'll die tomorrow." A plurality of aspirations unites all Americans -- a business-success dream (and not just Americans but the middle-class worldwide). It defines success or failure in the American system. Living proof of the system's effectiveness is an affirmation of the proposition that persistent application of one's talents, small though they may be, pays off. And this, after all, is the substance of the American Dream -- the materialistic "pay off."

[T]he United States, unlike most other nations, defines itself not on the facts of blood, religion, language, geography, or shared history, but on a set of ideals expressed in the Declaration of Independence and consolidated in the Constitution. At the core of these ideals lies the ambiguous but galvanizing concept of the American Dream, a concept that for better and worse has proven to be amazingly elastic and durable for hundreds of years and across racial, class, and other demographic lines.

Cullen traces a series of overlapping American dreams: the quest for religious freedom that brought the Pilgrims to the "New World"; the political freedom promised in the Declaration; the dream of upward mobility, embodied most fully in the figure of Abraham Lincoln; the dream of home ownership, from homestead to suburb; the intensely idealistic--and largely unrealized--dream of equality articulated most vividly by Martin Luther King, Jr. The version of the American Dream that dominates our own time--what Cullen calls "the Dream of the Coast"--is one of personal fulfillment, of fame and fortune all the more alluring if achieved without obvious effort, which finds its most insidious expression in the culture of Hollywood. (Cullen)

The dark heart of the American dream is that our hearts are torn between the two positions of humanistic conscientious goodwill (love, justice, freedom, equality, liberty), and selfishness if not greed. It is no coincidence that often the most affluent are the most narcissistic, self-absorbed, and addicted -- to everything from consumerism, to personal urgency, to privilege, to manic activity, to escapism and thrill-seeking behavior, to sex, to self-indulgence, to instant gratification, to mind and mood altering chemicals, to power. Ironically, the wealthy are often poor in soul, with few social bonds except through prosperity. They are never sure whose motives they can trust.

The cinematic image of Wall Street's exploitive anti-hero Gordon Gecko and his narcissistic narcosis still haunts us with the refrain, "Greed is good." It is even more poignant now that the Wall Street bubble has burst. The trajectory of our acquisitiveness has gone from less necessity to more choice, to rampant desire ("more is better" whether we "need' it or not), and we've lost our souls in the process. Our consumer culture is built on the Cartesian shopping principle: "I buy, therefore I am."

We obsess on our bodies and minds, often neglecting our souls. But "we need more" than an abundance of material goods.

This greediness, acquisitiveness, the inability to be filled, becomes even more important to reflect upon during the present fall of corrupt corporations and the rise of the Pax Americana , the militarily unopposed spread of American power and values. We are perceived as a bully-nation by a large part of the world. Problematically, there are natural consequences to this unilateral behavior. In some ways the new American "Empire" has become an extension of the resource-exploitive notion of "manifest destiny," exporting it abroad.

American civilization, -- middle class civilization -- with its democracy, individualism, mobility, and human rights, wants to predominate, to encompass the entire world, but it cannot because it remains incomplete. Egalitarianism isn't too far from antiauthoritarianism. Power is exercised by imposing it on others, while authority elicits willing compliance. That moral authority only comes from a shared ethical base that transcends national boundaries, transcends religious affiliation. Such authority cannot fail to be recognized, but no one, no nation has been able to wield it.

The underlying truth of American culture is that it is, of course, multinational, composed of those from all continents, backgrounds, and ethnicities. Americans are a polyglot of Europeans, Latinos, Africans, Indians, Asians, Native Americans, and any other nationality who had strong enough drive to migrate here in the first place. Many people have mixed backgrounds, a robust combination of racial traits. We are Christian, Jewish, Buddhist, Hindu, pagan, atheist, agnostic, and have more Muslims than Afghanistan. All are free to pursue their orientation without persecution or pressure from neighbors or the state. It is no secret this country was founded on the desire for spiritual freedom.

Americans are English, French, Italian, Irish, German, Spanish, Polish, Czech, Russian or Greek. An American may also be Canadian, Mexican, African, Indian, Thai, Chinese, Japanese, Korean, Australian, Iranian, Asian, or Arab. Or Pakistani, or Afghan. An American may also be a Cherokee, Sioux, Osage, Blackfoot, Navaho, Hopi, Apache, Seminole, or one the many other native American tribes, or mixed bloods. Because Americans are not a particular people from a particular place, they are the embodiment of the human spirit of freedom. Everyone who holds to that spirit, everywhere, is an American. Many of us are products of the "melting pot," of mixed heritage. We need not deny our roots to become Americans.

Free to believe in no religion, we answer only to God, not to the government, or to armed thugs claiming to speak for the government and for God. An American is from the most prosperous land in the history of the world. The root of that prosperity can be found in the Declaration of Independence, which recognizes the God given right of each person to the pursuit of happiness. Americans are traditionally generous, helping out just about every other nation in the world at some time. America welcomes the best -- the best products, the best books, the best music, the best food, the best art, the best athletes. But it also welcomes the least, as shown by the sentiment expressed by the Statue of Liberty.

The success of democracy in the past was undergird with the family and religion. The fruits of the market system -- science, technology, urbanization, affluence -- are undermining these institutions that are the foundations of social order. In traditional cultures, many of the tasks we now pay others to do for us were done within the family. Shameless self-promotion has taken its place, wherein marketing ourselves becomes a way of life. Speech and action have become marketing, revealing not personality but ambition. We are naturally and rightly wary of people we perceive as peddling themselves. Money gives an individual power; as they say "money talks, and bullsh-- walks." Or, the measure of sincerity is, "Show me the money."

Politics is now presumed to be the realm of dishonest speech and ulterior motives. Politicians, lacking credibility, know they are transparent, but still shamelessly try to manipulate the opinions of voters. Our private wariness and the public failure of parasitic politics has led to an ironic attitude, disillusionment. What should be seen as tragic is perceived as farcical. Our greatest fear is perhaps being caught having staked our all on a false hope -- personal, political, or both. Paradoxically, having fewer hopes can lead to more commitment to materialism, to making money, since little else seems quite worth the risk or emotional investment.

An ironic attitude to politics and public life never invites disappointment by a movement's decline or a leader's dishonesty, ineffectiveness, philandering, propagandizing, manipulation, or overweaning arrogance. There is a kind of security here in the skeptical mentality, but it is the negative security of perpetual suspicion.
Irony prevents us from taking another seriously -- their integrity, sincere motivation, authority. We laugh at their trite, hypocritical, sanctimonious posturing. We have become wary even of hope, of believing too much, especially in people. Paradoxically, it has become a point of vague, if convictionless, pride. We have a confused estimate of our powers, limits, and needs. Meaning has given way to postmodern coolness and disenchantment. We're left cold.

We need a sense of purpose -- secure relationships with others, trust and commitment -- something and someone to believe in, not dangerous self-certainty from overconfidence. There is a world crisis stemming from lack of authority. Power is the capacity to force compliance from others, while authority means compliance is given willingly by people to those whom they hold in awe. We are constantly in motion yet rarely satisfied.

For all our so-called individuality, we are highly conformist in dress, in attitudes, in beliefs, etc. Yet somehow, as a nation, we lack what makes a person truly individuated: identity and soul. Identity gives us self-respect and a legitimate place among others, while soul provides direction and true vision. Soul must be driven by more than deep ambivalence and the threat of bankruptsy. It is that kind of true vision that created the this country, the Declaration of Independence, Constitution, and Bill of Rights.

This modern lack of apparent soul has damaged our image in foreign lands where the export, encroachment, and penetration of our culture through television, movies, commerce, policies, tourism, and technologies is automatic. William Irwin Thomson said, "The history of the soul is always the history of the voiceless, the oppressed, the repressed."

We can delineate the problem by contrasting it with Muslim culture, about which we need to learn more and more. It is this same sense of rooted identity that the Arab nations are trying to preserve when Muslims staunchly resist Americanization, cultural homogenization. They want to maintain their own historical identity and cultural independence, claiming Western style states are not suitable in their cultural context, which is based in the community of believers. In their own modernization, they seek a different balance between individual and community rights. Muslims emphasize group over individual values, first considering this holistic identity. Islamic religion cannot be compartmentalized into only the personal sphere of life.

Social order is organized from morning till bedtime around religious thinking and style of life. It is the social glue; the understanding of life and relations to society have one point of reference. Still, Western values have introjected self-doubt into more progressive Muslims, creating psychological crisis and disorientation and splitting their holistic identity. Faith battles modernity, but in America Muslims can reinterpret their religion free of political manipulation. But this theological questioning, a communal journey seeking a new consensus, will never yield a uniform new understanding or synthesis of Islam globally, since it has always been pluralistic in practice.

But intellectual creativity does foment new political and cultural attitudes, even if only among the educated elite without the following of the orthodox masses. The Qur'an upholds freedom of conscience, declaring there is "no compulsion" in religion, leaving room to interpret the relation between divine revelation and human life. The battle, as in Western religion, is between the rationalists and the literalists on spiritual authority from divine revelation. Interpretations need to meet the spiritual, moral and psychological needs of contemporary believers.

Human rights is a Western concept, emphasizing an individual's liberties first. Many Muslims reject as un-Islamic the supposedly universal appeal of values of individualism, pluralism, secularism, feminism, and even democracy. They reject the categories, using instead their own cultural references and symbolic system. Their culture emphasises justice, liberty, equality, obedience and consultation between ruler and ruled, even in authoritarian states. It frames the tension of the spirit of the age between heritage and renewal. Is the Muslim dream any less sweet because it is different?

Technically, it includes the right of the people to chose and question their ruler, and oust those who relinquish this shura trust, in their own form of democratic action. For them standards of human rights must be expressed and adapted to the Islamic vocabulary and context, their own philosophical background of basic rights and freedoms. Secularism, in particular, is alien, challenging the core belief in God's Oneness and the unity of all things in God, making it difficult to separate religion, politics, and culture. The standoff is between Islam and secularism.

Thus, secularism is considered the instrument of colonial and intellectual invasion. It is not difficult to see how the political impasse has occured, between conservatism and liberalism regarding theology, philosophy, and jurisprudence. The big questions remain decolonialization, liberation, unification, social justice, development, identity, and mass mobilization. Practically, it means a modernization of souls whose bodies are living in the 21st century -- issues of development, dependency, critical thinking, alienation, and identity -- by learning to deal with reality without selling out to the secular state.

Our American philosophy, our secular worldview is based on freedom, progress, reason, science and the social contract. We are somehow expected to be self-aware, self-contained, and self-motivated. "I want it all now" is a distinctly self-ish attitude. But American experience begins not in self-confidence, but in a blend of confidence and anxiety that emerges as restlessness.

"Money changes everything," as the Cindi Lauper song says. Or, the Pink Floyd song Money, "keep your hands off of my stack." If anyone can become rich and powerful in America, we begin to sense the uneasy obligation to try to achieve it or live life in the shadow of failure, where failure means an ordinary, unremarkable life. But we can't all be movie or rock stars. We can hope for a sound, robust, diverse society only if we work for it, beginning with ourselves.

Long ago, de Tocqueville defined the insular malaise that penetrates American life: "Each one of them, withdrawn into himself, is almost unaware of the fate of the rest. Mankind, for him, consists in his children and his personal friends. As for the rest of his fellow citizens, they are near enough, but he does not notice them. He touches them but feels nothing." More and more, we need to consider not only our fellow Americans, but the diversity of global citizenry. Our private lives are pervasively affected by ailing or failing public institutions, economics and culture. We walk on a tightrope of necessity strung between freedom and responsibility.

Conversely, each of us is responsible for the common good and for upholding the integrity of common things, having values and standing up for them. And not the platitudinous values of political correctness, nor the water-down values of fear -- fear of either the enemy or the homeland which has labelled virtually any dissent as treason. To be authoritative, the vision needs to come from an authentic center that values people over things, to honor the social contract of mutual respect, mutual reliance.

Many other cultures do not validate the so-called American dream, -- the myth of progress, the myth of power, the myth of control, the myth of economic liberalism -- a disorderly scramble for goods. Sadly, it has also meant a virtual 'end of nature' in planetary environmental cataclysm. The meaning of the changes that already exist is the profound sadness of a world where there is no escaping the attacks of man. The basic forces of nature, once beyond our reach, are forevermore subject to man's dominion, even if we reorder our lives and live more humbly.

Human productivity is a poor substitute for biological productivity. Sure, the politics could change -- and they have -- for the worse, with massive environmental roll-backs by the G.W. Bush administration. In the historical past, defiance of nature has meant prosperity and a sort of security. Now, the notion of stewardship is losing a battle to planetary management and genetic engineering. The momentum behind our impulse to control nature may be too strong to stop -- nature has ended. We have chosen between that wholeness and our self-interests over other species, to make ourselves gods instead of remaining one of God's creatures. Thus, with 6 billion people on the planet, we've become the "Adam bomb."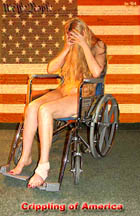 BE SURE TO VISIT OFTEN, AS I FREQUENTLY CHANGE THE CONTENTS OF MY PAGES. MANY PARTS OF THIS PAGE ARE JUST PORTIONS OF ARTICLES WHICH WILL EVENTUALLY APPEAR IN FULL.


Iona "Spooky" Miller
Webpresence 2006: IONATOPIA
Google IONATOPIA + Iona Miller' for the whole list
iona@ionamiller.org or iona_m@yahoo.com
2006 UPDATES: http://ionatopia.50megs.com
Io Art Updates: http://ionamiller.50megs.com
General Updates: http://ionamillerupdates.50megs.com
___________________________________________________
WHAT'S NEW

1/1/06
NEW WEBSITE: IONATOPIA
Comprehensive intro and updates for all writing and art.
Art Manifesto 2006
http://ionatopia.50megs.com

3/06
NEW WEBSITE: MIND CONTROL
http://mindcontrol.50megs.com
Do I t Yourself Mind Control. Self-care and Self-regulation is
the antidote to corporate and sociopolitical mind control. Do it
yourself, or somebody else will. Rototill your belief system;
don't be a sheeple, people. Paramdia Ecology; Paradigm Shift;
Freestyling

Coming, Easter 06 Harmonic Continuum private event/film with
Swami Beyondanada, including usual suspects. Some kind of
transdisciplinary SAVE THE HUMANS movie, along the
lines of What the Bleep meets Holy Smoke. Physicist
Mark Comings, Teja Bell, Iona Miller, Paul Levy,
Julie Hendeson, Jim Berenholtz, Stas Rotkowski.
Media by Michael O'Roarke http://www.dimension7.com/company.htm

2/7/06
NEW WEBSITE: DIGITAL UNIVERSE
http://digitaluniverse.50megs.com
VIRTUAL QABALAH art/music DVD with Merlyn Morgan;
Albert Hoffman 100th birthday party, Basel; Io digital media art
Media Ecology; Video Guru Nam June Paik's Wake,
NYC. Io's 2006 Art Manifesto: DIGITAL UNIVERSE:
New Media Morphs the Memescape.

2/9/06
I've been asked to join the Board of Directors of MediGrace nonprofit, which continues my interest of institutionalizing meditation in complementary medicine, and development of human survival technologies. I've been working on this for some time with Dr. Marshall F. Gilula in Miami (heartstringsbook.50megs.com), but this local organization does both professional and public outreach, emphasizing self-care, which I find appealing. The Calm Birth book was released last season; Calm Healing has been written and includes some of my nonobjective artwork. It is wrapping up the publishing process now. medigrace.org/ calmbirth.org/

1/15/06
NEW WEBSITE: PSIONA
Iona's parapsychology/paraphysics history, writings and collaborations, 1970s - 2006. PSIber Kult, Emergent Mind, Nexus, PsiOps, John Curtis Gowan, Heartstrings Nonlocal Healing, Asklepia Dreamhealing, Mankind Research Unlimited, Beyond MK Ultra, OAK, Inc., more. 21st C. Psi Research, Holographic Concept, Co-consciousness, Quantum Bioholography, Multiverse, Chaosophy, Nonlocal Healing, etc.
http://psiona.50megs.com

1/26/06
NEW ANIMATION OF IO ART
I'm interested in subcultures and Psychedelic Intelligentsia as subject matter:
LSD: Problem Child of Albert Hoffman, Animations http://www.sign69.com/medialounge/space693.html
http://www.sign69.com/medialounge/space721.html
Art Frames - http://pg.photos.yahoo.com/ph/iona_m/album?.dir=/1561&.src=ph&.tok=phVEVVEBQhFiPa_b
Conference Pix (Jeff Keim)
http://pg.photos.yahoo.com/ph/iona_m/album?.dir=/57be&.src=ph&.tok=phQQTUEBZ1a.p4Xy
Universal Solvent: "Blue Elf Magick": Still frames and Hyperdelic animation of Io digital fine art and pix from Albert Hoffman 100th B-day party, Basel, Switzerland. Io collabo with electronic artist Philip Wood, France. Music: Plastic Ono Band, "Do the Oz".

12/2005
NEW WEBSITE: THE PHOTONIC HUMAN
From the Heart of Darkness springs the Light, and we are That. Virtual Photon Fluctuation is the Source of the photons that form and sustain our Being. We are truly Light Beings: Homo Lumen. We literally inhabit and embody a Temple of Living Light, which is interconnected with the deepest level of Cosmos. We are shiny Diamonds of Rainbow Light. We are made in the Images of that Brilliance. Shine On!
In the Effulgence of its Brilliance.
http://photonichuman.50megs.com

11/2005
NEW SITE: WISDOM CENTER
http://wisdomcenter.50megs.com

10/2005
NEW WEBSITE: KABBALAH LUMINATA
As a digital artist I paint with LIGHT; as a Qabalist I practice in the
Temple of Living Light. Recently discontent with static and
Flash imagery alone, I have begun venturing into the world
of filmmaking. Come see some of the art frames I have prepared
for animation at my new Kabbalah Luminata Portal at
http://kabbalahluminata.50megs.com

9/2005
PUBLISHING Iona's painting "The Diamond Body",
plus commentary in Science-Art art book;
see http://www.science-art.com.au/ and http://science-art-usa.50megs.com
THE TRUE MEANING OF THE DAVINCI CODE
By Robert Pope; ISBN 0-9577784-7-3 (155 pgs)
Science-Art Research Centre of Australia, Inc., 2005
By adhering to a mechanistic worldview, Western civilization is on a path to extinction, says Science-Art philosopher Robert Pope. The ancient knowledge passed on by the Greeks upheld a survival science, a "Savior science" that was misinterpreted by Leonardo Ad Vinci but was privately understood by Isaac Newton. In response to Dan Brown's The da Vinci Code, Pope hopes to set the record straight by returning to the atomistic philosophy of the ancient Greek scholars such as Plato and Philo. Plato's worldview is much more akin to a holographic reality, Pope argues. The "true meaning of the code", he suggests, relates to atomic movement creating evolutionary wisdom, and he points out some classic examples of Renaissance art that communicate this truth.

ART WRITING Jungian Psychology Cut-Up ESSAY on artist
GENESIS P-ORRIDGE: PandroGENy: A Love Story of Gender Reunion
~The Yab-Yummy Way of Imagination.
http://ionamiller.chaosmagic.com/catalog.html

"The artist is not a person endowed with free will who seeks his own ends, but one who allows art to realize its purposes through him. As a human being he may have moods and a will and personal aims, but as an artist he is 'man' in a higher sense - he is 'collective man,' a vehicle and molder of the unconscious psychic life of mankind." (Carl Jung, Psychology and Literature, 1930)

PORTRAIT Animated portrait of Iona by international electronic artist in Paris, Philip Wood:
http://www.sign69.com/medialounge/space543.html


Coming Attractions:
* Travelling road show with Iona on Quantum Biofeedback, Lorin Kiely on Top Down Yoga, Mark Comings on plenum physics, and cosmic comic Swami Beyondananda, opening at Alex Grey's CoSM in NYC.

* MODERN ALCHEMIST in Greek trans. from Bolero Pub. www.bolero.gr

* VIDEO HYPNOSIS DVD from Temple of Living Light Productions, with brain drivers for Alpha and Theta. Next: "MOODIES" based on consciousness journeys. Soon: "VIRTUAL KABBALAH", digital pathworking.

* BOOK HEARTSTRINGS: NONLOCAL HEALING is both a co-authored book and series of articles in the works with a Miami Psychiatrist, Neurologist and distance healer, Marshall F. Gilula, M.D. Groundbreaking Experiments with quantum biofeedback software and hardware.
http://heartstringsbook.50megs.com
http://cyberdoctv.com

* BOOK Also coming, BEYOND MK ULTRA, co-authored with Charles Stone, Chief Deputy to Dr. Carl Schleicher in Mankind Research Foundation. After his military career in psiops, Schleicher opened Mankind Research Unlimited, a parapsychology and alt.healing SRI or IONS type thinktank. In the 1980s, he was exposed as the creator of the deployable human cyborg – a Manchurian Candidate, and is the likely model of the X-Files "Cigarette Man". My ex-husband physicist Richard Miller worked as his NW Regional Director of MRU after he published "Holographic Concept of Reality" (with Stanley Krippner) in 1973 – long before anyone else. This is the inside track. See "Getting Blood from a Stone"
http://tigernews2005.50megs.com/photo2.html
http://tigernews2005.50megs.com/photo3.html

Also soon:
* BOOK The release of Iona's interview in Zora Von Burden's THE LUX ARTILLERY: Exceptional Underground Women
http://theluxartillery.chaosmagic.com

ART –
2006

BLUE ELVES GALLERY
http://pg.photos.yahoo.com/ph/iona_m/album?.dir=/1561&.src=ph&.tok=phVEVVEBQhFiPa_b

PHOTONIC HUMAN GALLERY
http://pg.photos.yahoo.com/ph/iona_m/album?.dir=/7774&.src=ph&.tok=phyDUbEBVYa3xQhR

NEW 9/7/2005 KABBALAH LUMINATA ~
http://pg.photos.yahoo.com/ph/iona_m/album?.dir=/d422&.src=ph&.tok=phFnzkDBf53bngCB

NEW 8/26/05 ART SLIDES ~
NUCLEAR MYSTICISM – Homage to Dali
http://pg.photos.yahoo.com/ph/iona_m/album?.dir=/98fe&.src=ph&.tok=phbKNhDB06IYM8oE
ESSAY TEXT: http://ionamiller.50megs.com/photo5.html

NEW ART SLIDES 8-15-05 ~
HEARTSTRINGS: NONLOCAL HEALING SLIDESHOW

MORPHIC RESONANCE
http://pg.photos.yahoo.com/ph/iona_m/album?.dir=/df6d&.src=ph&.tok=phyKndDBKVZORC6A

BARDO VISIONS
http://pg.photos.yahoo.com/ph/iona_m/album?.dir=/d3ea&.src=ph&.tok=phUQndDBpCe8z_N6

QUANTUM BIOHOLOGRAPHY/HOT LIPS
http://pg.photos.yahoo.com/ph/iona_m/album?.dir=/7a82&.src=ph&.tok=phMTndDBDq_ftt7f


NEW ART SLIDES 8-2005 ~ IO'S LATEST: VISUAL META-SYN SLIDESHOW
ELEKTRA
http://pg.photos.yahoo.com/ph/iona_m/album?.dir=/435b&.src=ph&.tok=ph4dCXDBN5fLEiI7

ILLUMINATIONS
http://pg.photos.yahoo.com/ph/iona_m/album?.dir=/7a51&.src=ph&.tok=phk0TYDBteRCTRgW

PLASMA UNIVERSE
http://pg.photos.yahoo.com/ph/iona_m/album?.dir=/9932&.src=ph&.tok=phjWuYDBmiRwUqcG
_________________________________________
NEW 7/05
MANDALAPALOOZA SLIDE SHOW Links & Wall Text
Be sure to watch these slide shows as the thumbnails do not do them justice!

ESSAY DIGITAL CYMATICS Wall Text:
http://ionamiller.50megs.com/catalog.html

Mandala ANIMAtions ~
Custom animations suitable for large screens for Music, Fashion, Meditation, and Lecture Events
http://onenationundergods.com/mandala.html

NEW 6/2005: BIOPHYSICS Portal
http://biophysics.50megs.com

New 5/2005: Nexus Conference May '05 Amsterdam pix
http://pg.photos.yahoo.com/ph/iona_m/album?.dir=/44e1&.src=ph&.tok=phEA1BDBBZRE2Gsk

___________________________________________________
ARCHIVES & IONATOPIA PORTALS 2005:

IONATOPIA 2006
http://ionatopia.50megs.com

THE IONASPHERE: COLLECTED WORKS 2000
http://ionamiller.org

2005 ART UPDATES
http://ionamiller.50megs.com

2005 GENERAL IO UPDATES PORTAL
http://ionamiller.chaosmagic.com

FANSITES 2005
TRIBE Public URL: http://ionaisthebomb.tribe.net
BLOG: http://people.tribe.net/ionamiller
BLOG: http://www.myspace.com/ionamiller

SUBCUTANEOUS UPDATE PAGE 2005
http://www.subcutaneous.org/Iona.html

LUX ARTILLERY ART BOOK 2005
http://theluxartillery.chaosmagic.com

SYNERGETIC QABALA PORTAL 2005
http://synergeticqabala.chaosmagic.com

FUTURE SCIENCE PORTAL
http://futurescience.chaosmagic.com

CREATIVITY PORTAL
http://creativity.chaosmagic.com

THE MODERN ALCHEMIST BOOK
http://themodernalchemist.chaosmagic.com

EMERGENT HEALING PARADIGM PORTAL
http://emergenthealing.50megs.com

SCIENCE ART USA PORTAL
http://science-art-usa.50megs.com

CHAOSOPHY JOURNAL PORTAL
http://chaosophy.50megs.com

EDGEWORKS HYPNOSIS PORTAL
http://edgeworkshypnosis.50megs.com

MYTHIC LIVING PORTAL Pantheon Book
http://mythicliving.chaosmagic.com

NEW 6/2005: BIOPHYSICS Portal
http://biophysics.50megs.com

SACRED GEOMETRY
http://sacredgeometry.50megs.com

IO UPDATES 2005 & SAMPLE ARTICLES
http://www.angelfire.com/art2/digidiva_ionamiller

THE MAGICAL & RITUAL USE OF PERFUMES book
http://magicalperfume.chaosmagic.com

ART ARTICLES ~ ARCHIVE
What Inspires Me http://ionamiller.50megs.com/about.html
Digital Cymatics: http://ionamiller.50megs.com/catalog.html
Iona paintings Animated: http://www.onenationundergods.com/iona.html
Cyberotica Art Manifesto: http://www.onenationundergods.com/statement.html
Edge Artists as Strange Attractors: http://www.subcutaneous.org/edge.html
Random Order Revisited: http://www.theesecondcouming.com/random.html
History of Digital Art 101: http://theesecondcouming.com/digital.html
Media Ecology: http://theesecondcouming.com/backgrounds.html
Lydia Lunch: Beyond the Pale: http://www.subcutaneous.org/lunch.html
PandroGENy: Genesis P-Orridge: http://ionamiller.chaosmagic.com/catalog.html

Iona also collaborates with the following Digerati:
http://nwbotanicals.org [Partner, O.A.K.]
http://emergentmind.org [Editorial Board JNLRMI; biophysics]
http://electricterra.com [Consultant in ULF EM research]
http://cyberdoctv.com [Associate; Wellness & CAM]
http://siliconwood.com [Consultant; Real Fantasy]
http://science-art.au.com [American Consultant, Science-Artist]
http://www.subcutaneous.org [Co-artist with animator Bob Judd]
http://www.championtreeproject.org [Consultant]
http://topdownyoga.50megs.com [Consultant]
http://tigernews2005.50megs.com [Investigative journalist]
http://www.nexusmagazine.com [Writer]
http://australiapalmisland.50megs.com/ [Indigenous Peoples Advocate/Activist]
http://wisdomcenter.50megs.com [member]
http://medigrace.org and http://calmbirth.org [Board of Directors; consultant]
http://zs.mondalica.us/ MONDALICA: Building Community Through Healing Art.

Iona is published by Phanes Press, Destiny Books (Inner Traditions International), Autonomedia, Nexus Magazine, Dream Network Journal, Journal of Nonlocality and Remote Mental Interactions (JNLRMI), Chaosophy Journal, DNA Monthly, Bolero, and more.

NEW 2005: Digital diva fauxto gallery: http://www.angelfire.com/art2/digidiva_ionamiller/fauxtos/
Psychotronic Animations: http://onenationundergods.com/iona.html
Digital Diva Slideshow Gallery
http://pg.photos.yahoo.com/ph/iona_m/album?.dir=/d185&.src=ph&.tok=phzy3sCBDKHTxL70
Mystique Slideshow Gallery
http://pg.photos.yahoo.com/ph/iona_m/album?.dir=/6bb0&.src=ph&.tok=phdqgtCBRE4Mp8pu
Psychogenesis Slideshow Gallery
http://pg.photos.yahoo.com/ph/iona_m/album?.dir=/4e20&.src=ph&.tok=phA83sCBD4bosmmz
NEXUS, Brisbane, Fall '04 Slideshow
http://pg.photos.yahoo.com/ph/iona_m/album?.dir=/d8b9&.src=ph&.tok=phd5gtCBqs6MaLrc
Cryptoegyptomania Gallery
http://pg.photos.yahoo.com/ph/iona_m/album?.dir=/f044&.src=ph&.tok=phbrgtCB9sNK26jj
*
buy the book
"THE MODERN ALCHEMIST:
A Guide to Personal Transformation"
IS BACK IN PRINT FROM IONA
$14.95 + $4.50 S&H for single book; Paypal at
http://www.nwbotanicals.org/books/modernalchemist/modernalchemist.htm
[coming soon in Greek from Bolero Publications, Athens]

About the author: Trandisciplinarian Iona Miller is a consultant, writer, hypnotherapist and multimedia artist doing groundbreaking work on the fusion of chaos theory and emergent paradigm shift in experiential psychotherapy, new physics, biophysics, philosophy, cosmology, medicine, creativity, art, qabalah, magick, metaphysics, and society. See her annual CHAOSOPHY JOURNAL at homepage http://ionamiller.org Also visit 2006 UPDATES at http://ionatopia.50megs.com and ARTLINKS at http://ionamiller.50megs.com


IONA'S WEBPRESENCE
THE IONASPHERE Miler's MAIN MENU homepage. Portal to Synergetic Qabala, Dreamhealing, SYNDEX, Psychogenesis, Diamond Body, and more.
FUTURE SCIENCE: MindBody Connection There is a fundamental connection between us all at the subquantal level.
IONA's 2006 Updates Find out what Iona's been up to and plans to do next.
Iona's ARTLINKS Master links to Iona's art webpresence. Art writing and graphic images.
Favorite Sites
CYBERDOC TV Wellness Webcasting Wellness and patient safety webcasting; CAM care, holistic healing, mindbody healing.
A QUANTUM REACH Putting the heart into the healthcare system. Patients partnering for increased safety.
DEATH BY MEDICINE Carolyn Dean's expose of American healthcare quality.
Distance Healing Research has shown the validity of distance or reemote healing.
HOLOSYNCH State of the art brain drivers using the binaural beat or frequency-following technology combined with virtual audio for a unique meditative and life-changing experience.
C.G. Jung Bookstore & Library A resource for mindbody healing books and ideas.
THE MODERN ALCHEMIST: A GUIDE TO PERSONAL TRANSFORMATION The language of depth psychology helps us how to turn alchemical lead into gold of high well-being, personally and spiritually.
BIONIC PRODUCTS: THE NEGATIVE ION EXPERTS The ONLY negative ion machine that is tunable and produces healing absorbable oxygen in your car or home.
ALPHASTIM CES is cranial electrostimulation for depression, relaxation and wellness. A proven medical technology with a great track record.